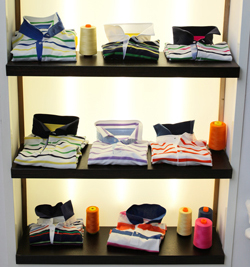 IOLANDA CONFEZIONI is a factory based on the policy of giving the highest quality level, the goal of the factory is the following: searching for and always using new kinds of fabrics.
Every year IOLANDA CONFEZIONI produces and sells clothes with its own trade-mark.
The polo shirts are characterised by quality and style. They are time resistant and each detail is carefully considered such as the holes, the buttons, the hems, the colours and the tailoring.
Each of these phases are carried out rigorously so as to create high quality products which will exceed the customer's demands.
"Within the factory" they analyse, project, create and make their own models.
Thanks to this kind of policy factory, it's possible to produce such clothes with a right relationship between quality and price, which can be personalised and which will be successful.