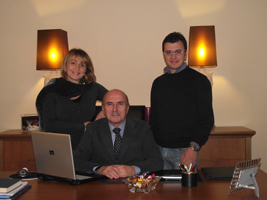 IOLANDA CONFEZIONI is born in 1977 in Andria, a town of the sixth province of Puglia: Barletta-Andria-Trani.
Its founder Mr Aldo Scamarcio, a stylish man endowed with good taste, has built over the years an experience and specialization in tailoring polo shirts for man, woman and child.
Since several years Mr Scamarcio has been supported by his son Giuseppe and his daughter Maristella, who are both responsible for the creation and the co-ordination of the two yearly collections: the classical and the sporting ones.
The factory is set in the very centre of the town. It's a workshop where people create, always considering the fashion styles launched by the Italian fashion all over the world.
Since its birth the factory has based its production line on successful principles such as methodology, analysis, rigorous quality and careful checks during each phase of the production.